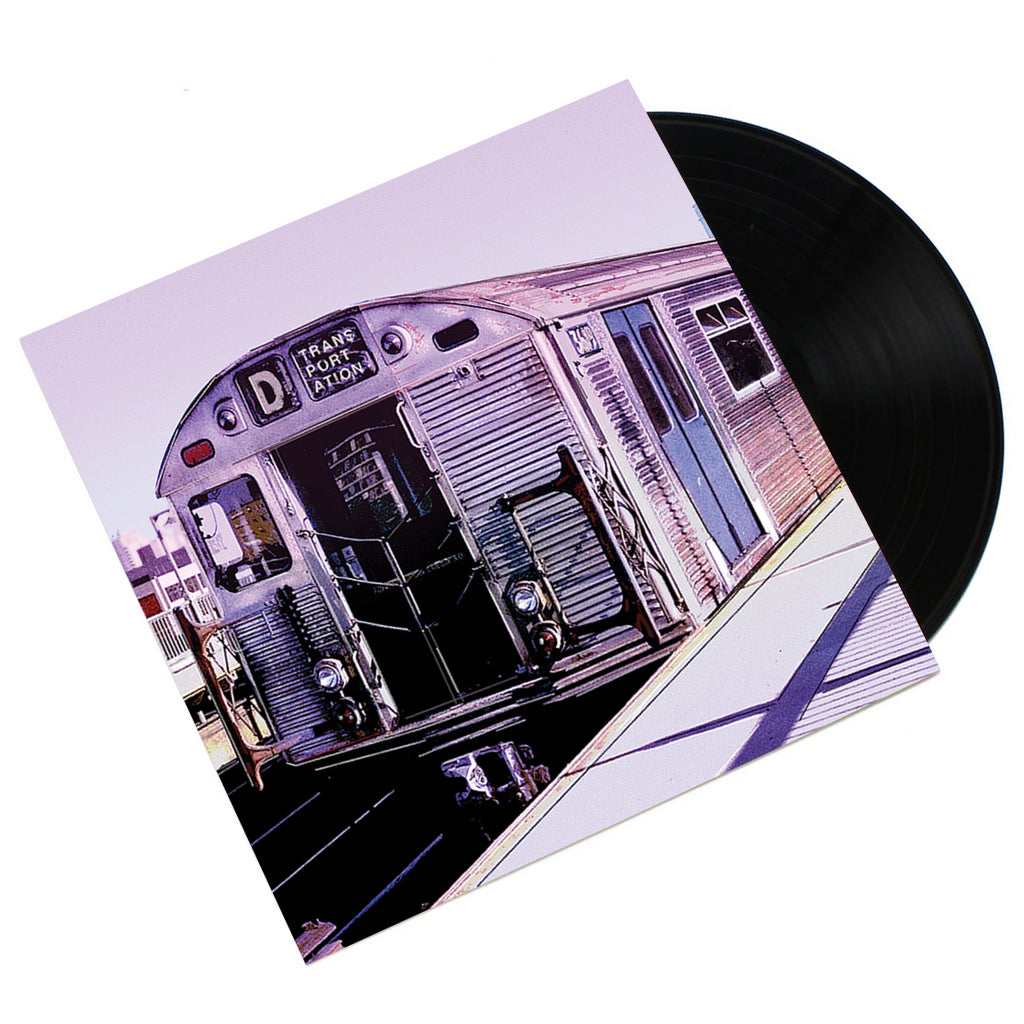 Transportation (2LP)
Includes instant digital download.

Your Old Droog recently made waves with the unexpected release of It Wasn't Even Close, a brand new album that drew widespread attention and endless praise after dropping with no advance warning. Fresh off this success, your old pal is returning less than two months later with Transportation.  The album features 15 tracks, all of which loosely relate to a method of transportation. "Not everything is literal though," says the artist, which comes as no surprise considering the man's penchant for abstract metaphors.  Transportation finds Your Old Droog returning to the unique remind-you-of-NYC-at-night soundscapes that served as the backdrop to his classic self-titled debut.  Similar to that first project, the bulk of the beats on Transportation are handled in-house by eclectic Inwood beat wizard Mono En Stereo. Droog sounds more than at home delivering the audio equivalent of comfort food, with interludes sprinkled around beats and rhymes that go together like a peanut butter and jelly sandwich with a cold glass of milk in the middle of the night. In Droog's case, it might be Bulgarian buttermilk.

1. Stillwell Baby
2. Monthly
3. Loosey Spot On Wheels
4. Under The Train (Transporting)
5. Head Over Wheels II (An Ode To G Dep)
6. The Cheese
7. Rocket Launch Interlude
8. My Plane
9. Getting Off The Plane Interlude
10. SS YOD
11. Train Love
12. Bikes, Bleeps, Busses
13. 207
14. Taxi (feat. Quelle Chris) (Bonus)
15. Vigilantes (Remix) (feat. Wiki) (Bonus)

International prices do not include customs charges. Expect to pay import duties for orders outside the US.

In-stock orders ship within 5-7 business days of purchase. The shipping class you select has no impact on order processing time (selecting "Priority Mail" will not get your order shipped faster). We do not offer rush processing.

Estimated pre-order ship dates are listed on the order page. Pre-order ship dates are subject to change. If an order contains both pre-order and in-stock items, we will wait until all items are available before shipping your order. If you prefer multiple shipments, please place separate orders. You will receive a shipment confirmation email with tracking information once your order ships. Please note it often takes a few days for the tracking number to appear in the USPS tracking system.

USPS Media Mail does not include insurance. If you select this shipping method, we are not responsible for damage caused by USPS during shipment. To ensure protection in the case of damaged shipments, please select USPS Priority Mail, which includes insurance.

If you are located outside the U.S. and select USPS First Class Mail International as your shipping method, tracking is extremely limited and no insurance is included. Shipments can take up to 6 weeks to arrive (or longer in some cases), and often go several weeks in transit without any tracking updates. Packages are scanned when leaving the U.S., and are often not scanned again until delivery. Due to the limited tracking, USPS does not accept inquiries for this service and we cannot check on the status of a shipment. Since this service does not include insurance, we assume no responsibility if your shipment is lost, returned to us, or arrives damaged. Additional fees apply for re-shipments. USPS Priority Mail International shipments arrive within 10 business days and include full tracking and insurance coverage.

All sales final. No refunds, returns, or order cancellations. Any problems with an order must be reported within 2 weeks of delivery (or within 3 months of shipment for undelivered orders). We cannot assist with any issues reported beyond this time frame.  If your order is damaged, please keep the shipping box and all packaging material, as this evidence will be required for filing a shipping claim. If original packaging is discarded, we cannot file a shipping claim, and you may be responsible for re-shipment costs.